Dental hygiene forms an integral part of one's overall health and hygiene. Tooth decay or affected gums could not only destroy your teeth, but also have adverse implications on your overall health. It is a good practice to check up your gums and teeth regularly to avoid dental issues and maintain a proper dental hygiene.
In a regular checkup, your dentist generally does not only carefully examine your teeth and gums, but does a series of tests covering your mouth, tongue as well as throat. Some tests done in a regular checkup visit to the doctor includes the head and neck examination which encompasses an examination of your face, neck, the lower jaw muscles and lymph nodes. Following are some of the usual tests and checks that you would generally have to go through.
Careful examination of any potential problems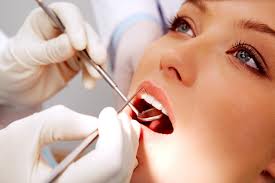 Your doctor examines the dental health by examining your gums, checking if there are signs of any gum disease or if your teeth are loosening from the gums. A visual evidence of tooth decay or the condition of the mouth tissues are stressed upon while checking up. Taking x-rays and seeing the state of your teeth fillings, if they are damaged, are also parts of the dental scanning process. Your doctor also checks if there is any requirement for dental implant.
Cleans your mouth
While the above tests and remedies form a part of the regular dental checkup process, there could be other reasons for which you might want to go and visit your doctor. The head and neck examination as well as the overall dental health checkup are the first two broad stages of examination during the visit. The following and final step in a normal visit is where the dental professional usually cleans your mouth. Post checking the cleanliness of your teeth, your doctor or his assistant would go ahead with removal of plaque and polishing your teeth to give it a fresh look.
General advice and best practices
While flossing and regularly brushing your teeth are important in your daily routine, it is important to get it reviewed from the dental professional. In a regular visit, besides the overall checkup and necessary remedies or actions taken, you also get advice of brushing and flossing as well as other hygiene tips for healthy teeth and gum.
The teeth form a core part of your body and could be a reason to worry if you do not maintain its health. A regular checkup semi-annually helps ensure you getting a routine examination and preserve your oral hygiene.